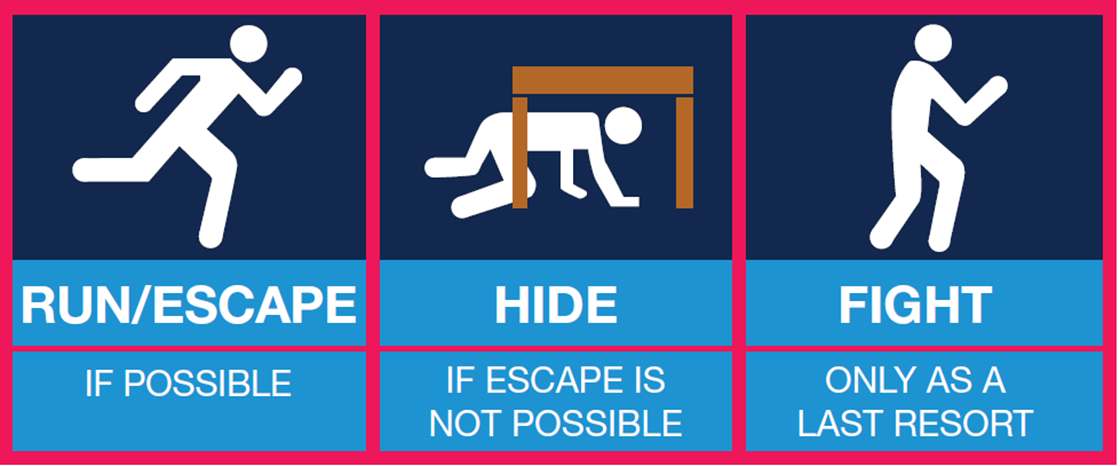 UCSF Police Department Active Threat Video
Active Threat Training Request Form
Active THREAT Training Videos and Additional Resources
How to protect yourself and those around you.
If you're inside
Secure the immediate area
If you're inside -- whether you're in a classroom, residence hall room, office or restroom:
Lock and/or barricade the door. Block the door using whatever is available, such as desks, tables, file cabinets and other furniture.
After securing the door, position yourself behind a solid object – such as walls, desks, file cabinets or bookshelves – and as far away from the door as possible. 
If the assailant enters your room and then leaves, lock or barricade the door. 
If safe to do so, allow others to seek refuge with you. 
Take protective action
To reduce your risk of being located and attacked: 
Close blinds and curtains. 
Block windows. 
Turn off radios and computer monitors. 
Silence cell phones. 
Keep people calm and quiet. 
Place signs in exterior windows or on the door to identify your location and the location of injured persons. 
But consider: If you place a sign on your door or in a window, the assailant can probably see it, too. 
If you're outside
Seek protection
Put whatever you can find (such as a building, rock wall, statue or concrete wall) between you and the assailant. 
Consider trying to escape if you know where the assailant is and a likely escape route is immediately available. 
If in doubt, find the safest area available and secure it the best way that you can. 
As soon as possible once you're positioned for safety: Call 911  
You may hear multiple rings but stay on the line until it is answered. Do not hang up.  
Be prepared to provide the 911 operator with as much information as possible, such as the following: 
What is happening 
The building name and your room number 
The number of people at your specific location 
The number of people injured, if any, and the types of injuries 
Your name, phone number and other information as requested 
Do your best to provide the information in a calm, clear manner. That way, the 911 operator can most quickly relay your information to responding law enforcement and emergency personnel. 
Report as much information as possible
If you see the assailant(s) at any time, try to note as many descriptive points as you can so you can report them, including the assailant(s)': 
Specific location and direction headed  
Number  
Gender, race, and age 
Language and/or commands used 
Clothing color and style 
Physical features – e.g., height, weight, hair color and style, facial hair, glasses, tattoos, birthmarks 
Type(s) of weapons – e.g., handgun, rifle, shotgun, explosives 
Description of any backpack(s) or bag(s) 
Do you recognize the assailant(s)? Do you know his/her/their name(s)? 
What exactly you heard or are hearing during the attack – e.g., explosions, gunshots 
Treat the Injured
You may have to treat the injured as best you can until law enforcement secures the area. (The fire and rescue departments will respond to the site, but they will not be able to enter the area until law enforcement has secured it.)  
To slow or stop bleeding, apply pressure to the site and elevate it. Many items can be used for this purpose, such as clothing, paper towels, feminine hygiene products, or newspapers. 
Reassure the injured and others in the area that help is on the way and try to stay quiet and calm.  
Law enforcement response: what to expect 
UCSF PD will immediately respond to the area, assisted by other local law enforcement agencies as necessary.  
But their arrival is only the beginning of the efforts to stop the assailant. 
For example, the assailant may not flee when law enforcement enters the building but instead may target arriving officers. 
The first responding officers will not treat the injured or begin evacuation until the threat is neutralized and the area is secure. 
You may need to explain this to others to calm them. 
If necessary, law enforcement command staff will make the decision to call in outside supporting agencies or to close all or a portion of the crime-scene grounds.  
Assistance from local and state law enforcement agencies is provided under existing mutual-aid agreements.  
Help is arriving, but the danger may not be over  
For your and others' safety: 
Stay in a safe place until law enforcement has located, contained, and stopped the assailant. 
The safest place for you to be is in a locked/barricaded room. 
Remain inside the secure area as long as it remains safe to do so. 
Regardless of what you think is happening at the moment, the attack may not stop until law enforcement stops it. Consider the following before leaving a safe area: 
Always assess your risk of exposure before opening the door for any reason. 
Be aware that the assailant may bang on the door, yell for "help," or otherwise try to get you to open the door of a secured area. 
Attempt to rescue people only if it's possible without further endangering yourself or others inside the secured area. 
If you have any doubt at all whether it's safe to leave, don't. Wait for law enforcement to declare the attack over. 
Stay calm during area evacuation 
Responding officers will establish safe corridors for persons to evacuate. 
This may take some time. 
Remain in a secure area until instructed otherwise. 
You may be instructed to keep your hands on your head. 
You may be searched. 
You may be escorted out of the building by law enforcement personnel; follow their directions. 
Once the threat is over, officers will assist EMS with treatment and evacuation of injured and other personnel.  
After evacuation, you may be taken to a staging or holding area for medical care, interviewing and/or counseling. 
After you've been evacuated, you will not be permitted to retrieve items or access the area until law enforcement releases the crime scene. 
Subsequent procedures and communications 
Following an active shooter incident, law enforcement, first responders and WarnMe notifications will tell you when it's safe to move about.
UCSF uses WarnMe as a mechanism to provide initial alerts along with updated information as it becomes available. 
That's why it's important to register personal emergency contact information via WarnMe.
If you were a witness to the incident, make yourself available to law enforcement officers to aid in the investigation.  
Support services such as temporary shelter, medical care and counseling will be made available for anyone involved in or impacted by the incident. 
Information about the active-shooter incident will be released to the UCSF community as quickly as circumstances permit. 
For more information, please contact the UCSF Police Department Professional Standards Unit at (415) 476-1414 or at 654 Minnesota Street, San Francisco, CA 94143-0238. 
Additional active threat resources  
Learn more about coping with an active threat incident by taking the FEMA Emergency Management Institute's online course IS-907 Active Shooter: What You Can Do. You can also consult these resources: 
​
​​​
RUN. HIDE. FIGHT.® Surviving an Active Shooter Event - English 
Cal State University - Active Shooter Safety Training 
UCSF students, faculty, staff and affiliates may log in to the UC Learning Center website and search "active shooter".